brokering by maats
equipment brokering
equipment brokering by maats
Brokering late model low houred equipment is one of the pillars underneath the business model of Maats Used Equipment. We have an extensive network of selected and reliable suppliers throughout Europe.
We follow the multibrand strategy and therefore we are not limited to redistributing Liebherr equipment but can also cater for machines manufactured by other manufacturers , for example:
Ammann
Bomag
Caterpillar
DynaPac
Fuchs-Terex
Hamm
and many more
Exceptions given, all units we buy for & on behalf of our customers come to our yard first for cleaning, modifications and repairs if and when required.
We have a full understanding of the emission requirements in the USA and Canada and quarantine cleaning for Australia & New Zealand holds no secrets for us either. Customs clearing as far as Europe is concerned and export documentation are included in our services as well.
If required by our customers, we can deliver machines worldwide to any port. We only contract a very small selection of road haulage companies for transport throughout Europe and shipping agents for ocean freight: contractors that guarantee transit of machines to the utmost standards.
Push & pull brokering
We work by the "push & pull" method when redistributing a machine:
you are looking for a late model low houred machine and ask us to locate a suitable unit: you want us to pull a machine out of the market or;
you have a recent machine of high quality for sale and want us to locate a potential buyer: you want us to push a machine towards a new owner.
Conditions permitting, we always travel to machines to view for and on behalf of the (overseas) buyers once a sale is in place, before the machine is paid. A sale will always take place via Maats thus ensuring the machine will actually be purchased or delivered. When you are a supplier to Maats, you will invoice Maats and when you are a Maats' customer, you will be invoiced by Maats.
our four steps when brokering
When brokering equipment, we follow four steps to bring the transaction to an end:
Maats commits to the machine by means of buying it on its own title;
Maats pays for the machine and takes control over it;
The machine will be taken to the Maats location in Holland if feasible;
After we receive payment the machine will be transported onwards to the docks or its final destination.
From case to case, we will assess if a deposit payment to Maats is required. After all, Maats does bear the risk of the machine.
what you can expect from us & what we expect from you
When brokering equipment, a lot of trust comes into play:
we trust our customers that we are paid once we present evidence that the machine has arrived in our yard;
equally important, our customers trust us that the machine will meet or possibly even exceed their expectations once the machine arrives at it's final destination.
Exceptions given, we go and see every machine that is subject to a brokering transaction. We present unique pictures proving that we have been with the machine, that we have 'touched' it.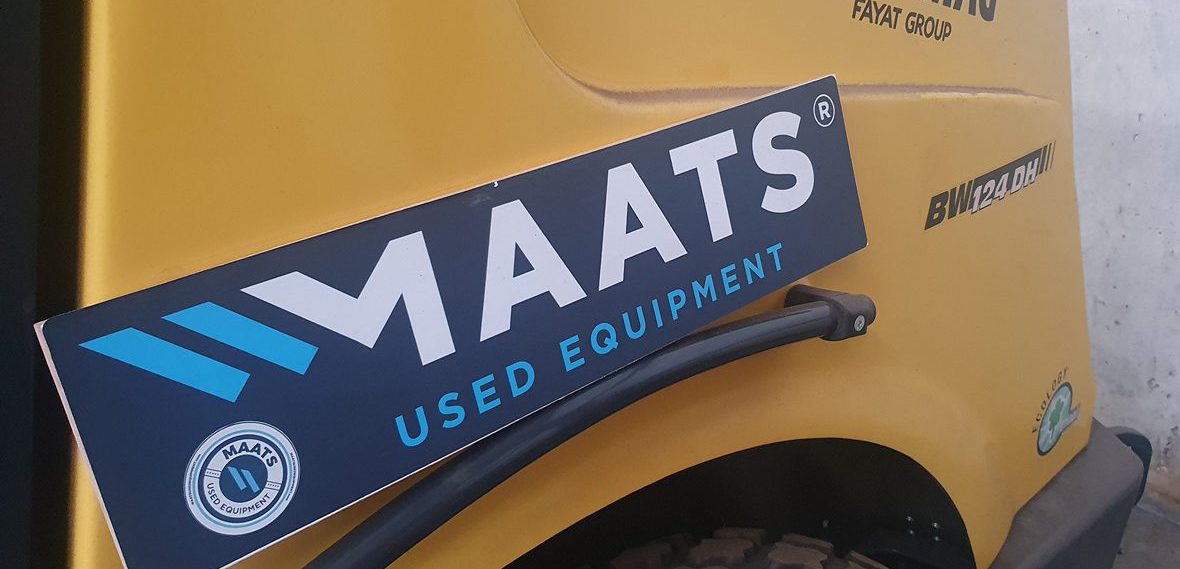 However, we do not drive all across Europe without any commitment from our customers:
before we travel there is a sale in place, price and conditions are agreed upon;
when we are at the machine and we believe our customer will be happy with the machine, we commit to the machine for and on behalf of our customer: the point of no return;
once the machine has arrived at our yard, we will present photographic evidence of the machine being at Maats and expect our customer to send us the payment.
new & unused equipment
Maats can also be of assistance in the supply of new and unused machines: due to global price fluctuations or local availability it sometimes pays out to source a new and unused machine (overseas) from Maats Used Equipment. Again, we have a multibrand strategy and will look into sourcing  machines made by all manufacturers.

want to know more?
Are you looking for a machine or do you want to sell a machine? Then do not hesitate to contact us: